His unmistakable voice has been endlessly imitated, as has his famous walk – but there could only ever be one John Wayne.The Duke appeared in more than 170 films over his career, more than any other star of the sound era. If you look through the Freeview TV listings for any week, you are guaranteed to find several of his movies in the schedule, a testament to his enduring appeal.
Although he is best-known for his astonishing 80-plus Western roles, he also appeared in acclaimed war films, and in other genres too. Wayne was born in Winterset, Iowa, with the surprising birth name Marion Morrison, after his grandfather, an American Civil War veteran. His birthplace has now been turned into a museum, while the road where it is based has been renamed "John Wayne Drive." An annual birthday celebration is held there, which this year was headlined by singer Red Steagall.Wayne's fame is so great that it's surprising now to remember he was once mired in B-Westerns – making dozens of them before his breakout role as the Ringo Kid in the John Ford epic, Stagecoach.
In 1933, he even appeared as a "singing cowboy" in one of these pictures, Riders of Destiny, although his singing voice had to be dubbed, unfortunately by an actor who sounded nothing like him!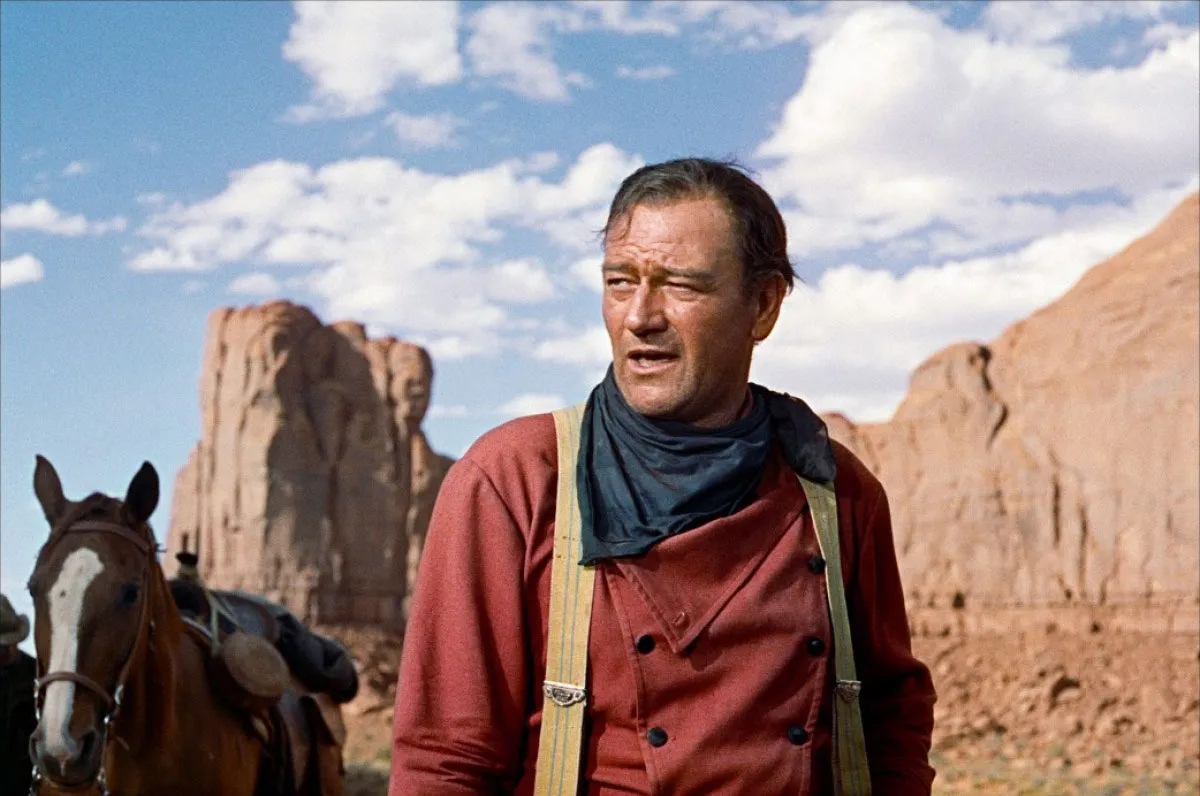 Even after Stagecoach, he was still often second or third-billed, before in the late 1940s he finally became one of the biggest stars, making it into the Top Ten box office poll, a position he kept right up until the 1970s.
Wayne finally won the best actor Oscar for True Grit, although many people argue he should have received it for one of his acclaimed earlier roles.
However, his career was famously uneven, with one low point being The Conqueror, where he was wildly miscast as Genghis Khan, which was listed in the book The Fifty Worst Films of All Time.
Wayne is regularly voted high in polls for favourite all-time stars. In tribute to his continuing popularity, his birthday has even been declared John Wayne Day in Texas, although in 2016 a similar proposal in California, where he spent most of his life, was turned down because of controversy over his political views. However, a Californian airport was named after him, in Orange County, with a 9ft bronze statue standing at the entrance,and many other locations bear his name,
Another important part of his legacy is the John Wayne Cancer Foundation, founded by his family, which co-ran a melanoma research programme which the Norfolk and Norwich Hospital was chosen to take part in. The charity's website declares, "We fight cancer with grit." Here is a look at 5 key films from Wayne's long career, but there are many more classics in his filmography. Arts editor Andrew Clarke has also written a personal appreciation of John Wayne.
THE BIG TRAIL (1930)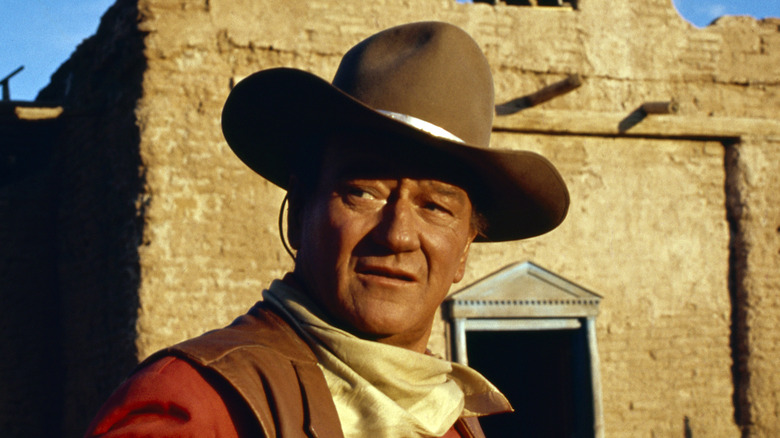 John Wayne's first lead role stands up very well if you watch it now, even though it was a flop at the box office. Its lack of success was largely because it was made in an early 70mm widescreen format which most cinemas could not afford, coming so soon after the changeover from silents to talkies. A 35mm version was also made. The movie was directed by Raoul Walsh, following a group of settlers attempting to cross the Oregon Trail. Wayne plays a trapper out to avenge the death of a friend. Gary Cooper was reportedly originally offered the lead, but was not available. Watching this now, it comes across as amazingly ambitious and ahead of its time for a 1930 talkie, shot on location with sweeping vistas of the landscape. Wayne could have avoided all those years of B-movies if this had been a hit.
STAGECOACH (1939)
Acclaimed as one of the greatest Westerns of all time, this film has been hugely influential, studied by many film-makers over the succeeding decades. This was the first film that director John Ford made in the spectacular, rugged landscapes of Monument Valley, which is now so closely linked with both him and Wayne. The film follows a group of nine people travelling through Apache territory, with tensions building steadily between them. One of its most memorable moments is the dramatic introduction of Wayne as the Ringo Kid. Stranded in the desert, he stands there twirling his gun, before a close-up of his face. He was over 30, and a veteran of dozens of movies made on Poverty Row, but still looks incredibly young.
THE ALAMO (1960)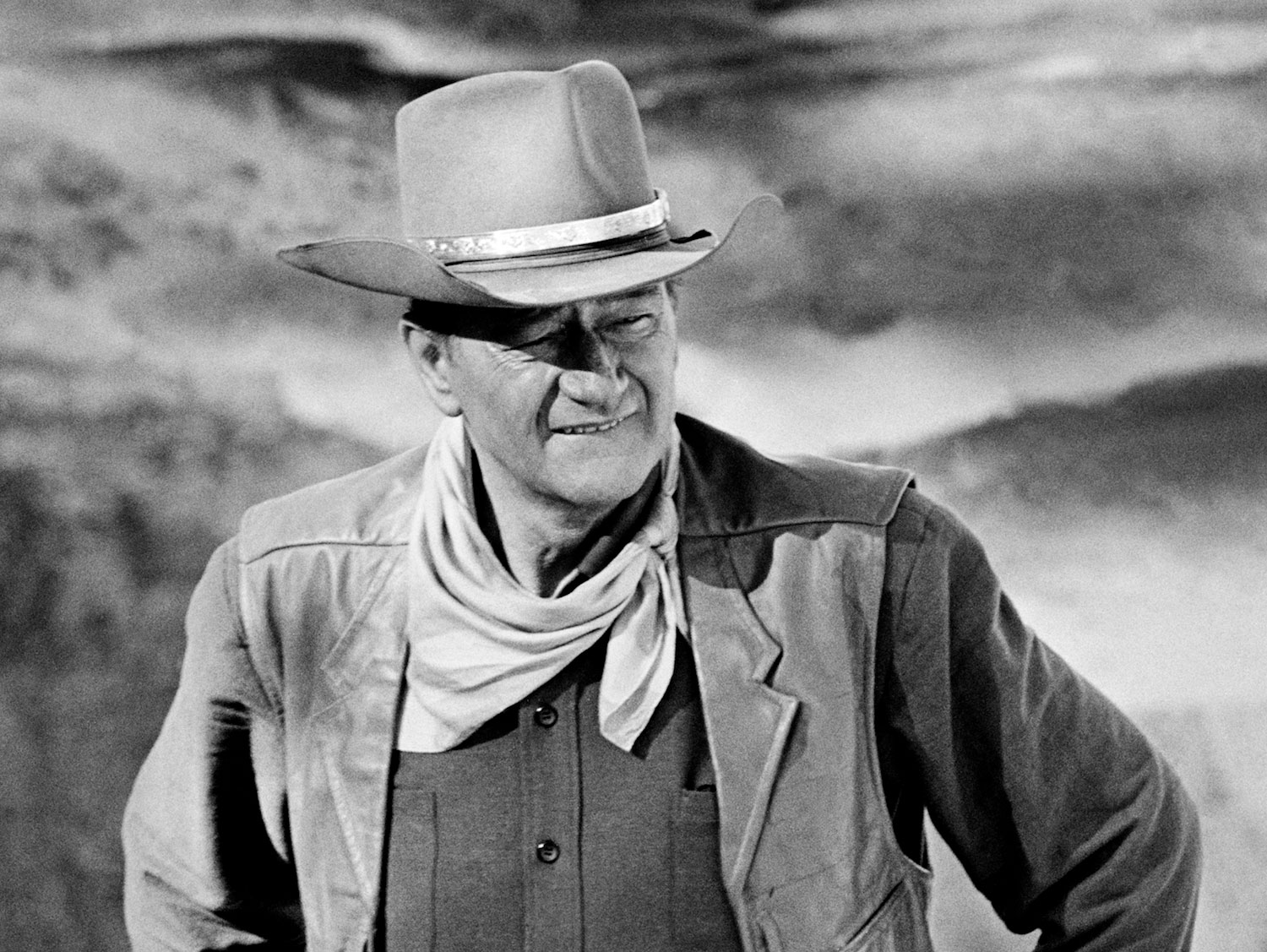 John Wayne not only starred in this historical epic, but also directed it, receiving a best picture Oscar nomination as well as five other nominations. This was a real labour of love for Wayne, taking him more than 15 years to get the project on to the screen. Wayne plays Davy Crockett, starring alongside Laurence Harvey and Richard Widmark.
The film follows the battle for Texas' independence from Mexico. There are two different versions of this, the longer "roadshow" film and the shorter print used for release.
TRUE GRIT (1969)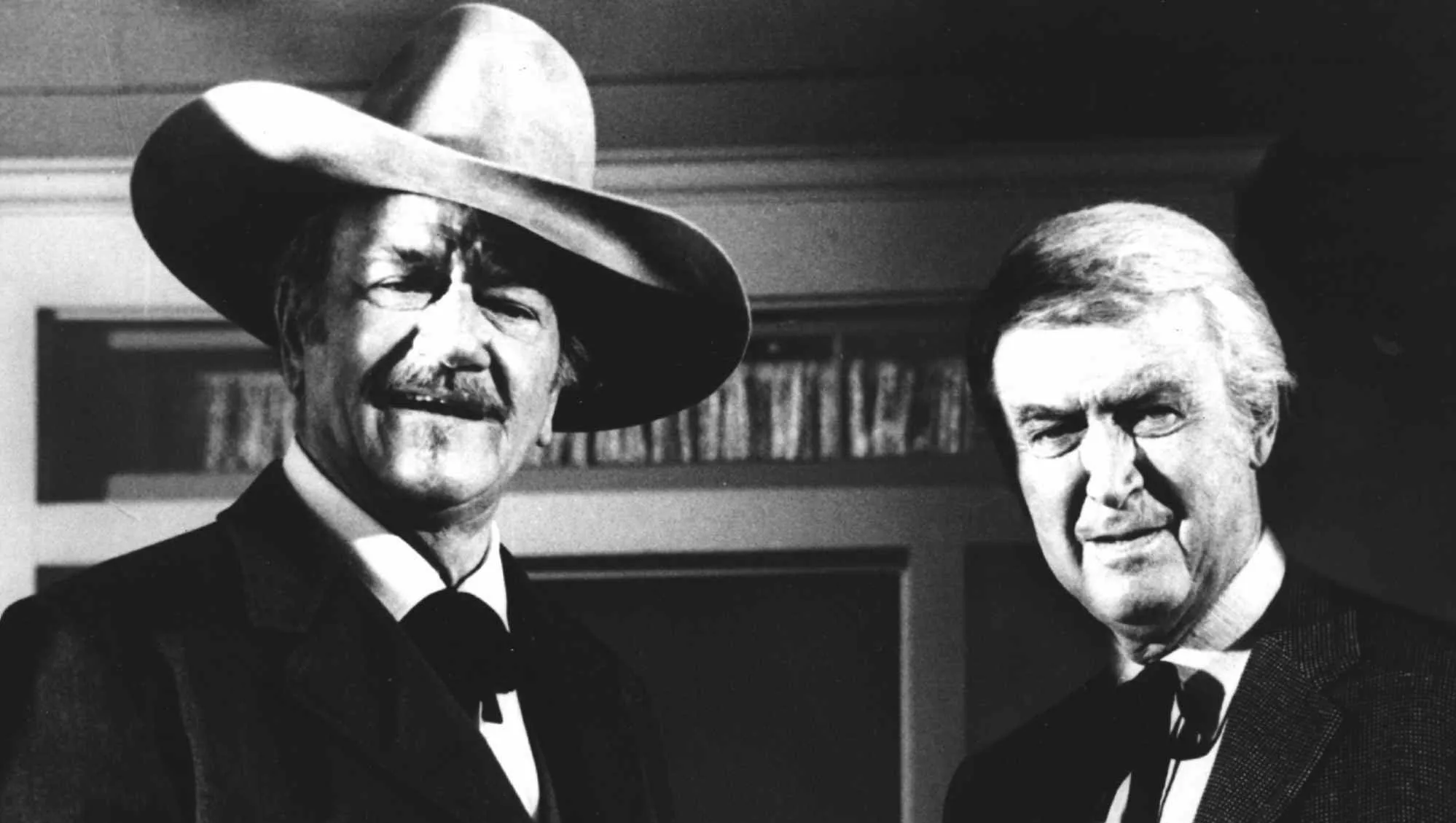 Wayne finally won an Oscar for best actor for his role as overweight, hard-drinking US marshal Rooster Cogburn in this much-loved Western. He is recruited by a young girl, Mattie Ross (Kim Darby), to help avenge the death of her father. Wayne has a lot of fun as the larger-than-life, outrageous Cogburn, a role he went on to reprise in Rooster Cogburn (1975), where he teams up with Katharine Hepburn.However, True Grit is definitely the best of the two. The recent Coen brothers remake, starring Jeff Bridges, is also a great film, with the Dude taking over from the Duke.
THE SHOOTIST (1976)
John Wayne's very last film was also one of the best of his career. He plays an ageing (and, it turns out, dying) gunslinger, JB Books, who goes to stay at a boarding house, run by Lauren Bacall, to meet up with his old friend, Doc Hostetler (James Stewart). Arts editor Andrew Clarke chose this film to feature in his An Alternative Guide to Great Movies series of articles, commenting "It really was the end of an era but it was played out with great depth and great style."